Contact Us Today for a Free Demo!
Phone: 1-888-760-1101
Email: sales@patrolops.com
About Patrol Ops
Patrol Ops is your complete solution for patrol services. It was developed with a focus on:
making patrol services more efficient and effective.
providing managers more time to interact with customers
addressing crime problems more effectively with better analysis and reporting
improving communications between patrols and their clientele
facilitating a truly mobile software solution, since few effective patrols can be tied to a desk.
Patrol Ops has emerged from over 20 years of law enforcement and private patrol experience. MindStorm Technologies developed Patrol Ops utilizing the latest in HTML5 technology, which allows users to easily access it from any mobile device or web browser.
MindStorm will continue to develop and improve Patrol Ops as the needs for the system evolve. In addition, MindStorm can customize the application to your specific needs.

Customers

"Tanglewood Homes has been using Patrol Ops for almost two years and have benefited greatly from this system. This software streamlines many processes including scheduling, payroll, and incident reporting. I have all necessary information at my fingertips, and can review important incident reports immediately. Mindstorm is constantly upgrading the software, making this is a one-stop warehouse for all necessary information that we use for our patrol management systems.
"
Steven Boyd, General Manager
Tanglewood Homes Association
May 2015
Customer Management

Patrol Ops works in conjunction with NeighborTap to create a complete Community Management solution. NeighborTap keeps your customers tapped into your community through better communication
With NeighborTap, your customer/resident...
Has their own login with ability to update information utilized by your officers
Can request Out-of-Town/Alert service (Mapping of Notices for your officers)
Can receive email notifications from your Management team and Patrol Office
Can view or create Classified Ad listings available only to your community
Can search and endorse local businesses
NeighborTap and Patrol Ops work together to provide unmatched communication between you and your customer. As a result, your level of customer satisfaction is raised as it equips the patrol with the tools necessary to provide a concierge level of patrol service. Each one of your clients may have access through this system so that they may more readily keep their contact and preference data up to date.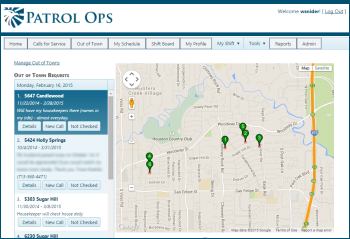 This module also provides an out-of-town or alert notice system that allows your customers to electronically notify the patrol when they are away or have a specific issue that requires routine checks by the patrol. This data translates to a map based system that allows officers to quickly visualize all statuses of alerts/notices and their locations.
In addition to this, the Patrol Ops Customer Module will help your customers stay informed with a notification system that will email notices to all, or pre-arranged groups of customers.
Call Management
Electronic dispatching of calls to patrol units
Provides pertinent data on customers to the patrol
Provides historical tracking of all request for service details
Generates professional reports regarding calls for service with statistical analysis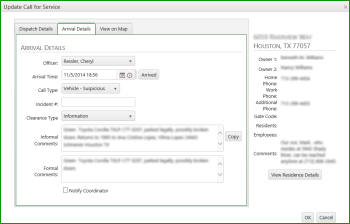 The Patrol Ops Call Management Module serves as the center for your patrol operations. It provides the ability to dispatch units to requests for service. The dispatched units can then easily see the pertinent customer data immediately as they arrive on the call. The Call Management Module also serves as a historical record of dispatch time, arrival time and all necessary historical data relating to a call for service.
As a result, informational reports can be generated from the collected call data. These reports are presented in professional formats that will impress your clients as you keep them informed regarding the productivity of your patrol services. Other reports keep your officers well informed about current criminal trends and provide basic crime analysis so you may determine the best method to deploy patrol services.
Employee Management
Detailed employee information
Automatic scheduling and calendars available to employees
Allows officers to request shift replacements by email and text
Allows officers to accept available shifts from a mobile device or PC.
Time entry system
Automated budget and payroll reports
Employee notification system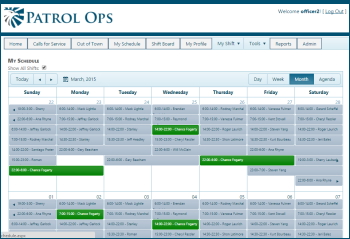 This module proves to be the most valued for those managing a patrol service. Are you tired of calling 30 officers to fill a last minute available shift? Are you tired of spending countless hours completing budget reports or billing invoices for clients. Patrol Ops can do all of this for you. Your employees can keep all of their personal data up to date themselves.
Asset Management

Scheduled maintenance reminder system
Vehicle discrepancy reporting
Track fuel, maintenance and repair costs
Provides analysis regarding vehicle and fuel costs to assist better decision making
This portion of Patrol Ops provides more effective tracking of vehicles used by your patrol service. It has a built in maintenance reminder system to remind you when scheduled maintenance is due.
The Asset Management module provides a means for tracking maintenance, repair costs, fuel costs and miles driven by each officer during their shift. Automated reports take this data and provide you with reports with valuable data, such as cost per mile. This type of report facilitates intelligent decision making when it comes to replacement of these assets. The same data is used to produce reports that assist in evaluating the effectiveness of an officer and their patrols. Reports related to fuel purchases can prove very helpful in reconciling credit accounts with fuel cards or gas stations.